The Shifting Sands of U.S. Demographics in the Face of Natural Disasters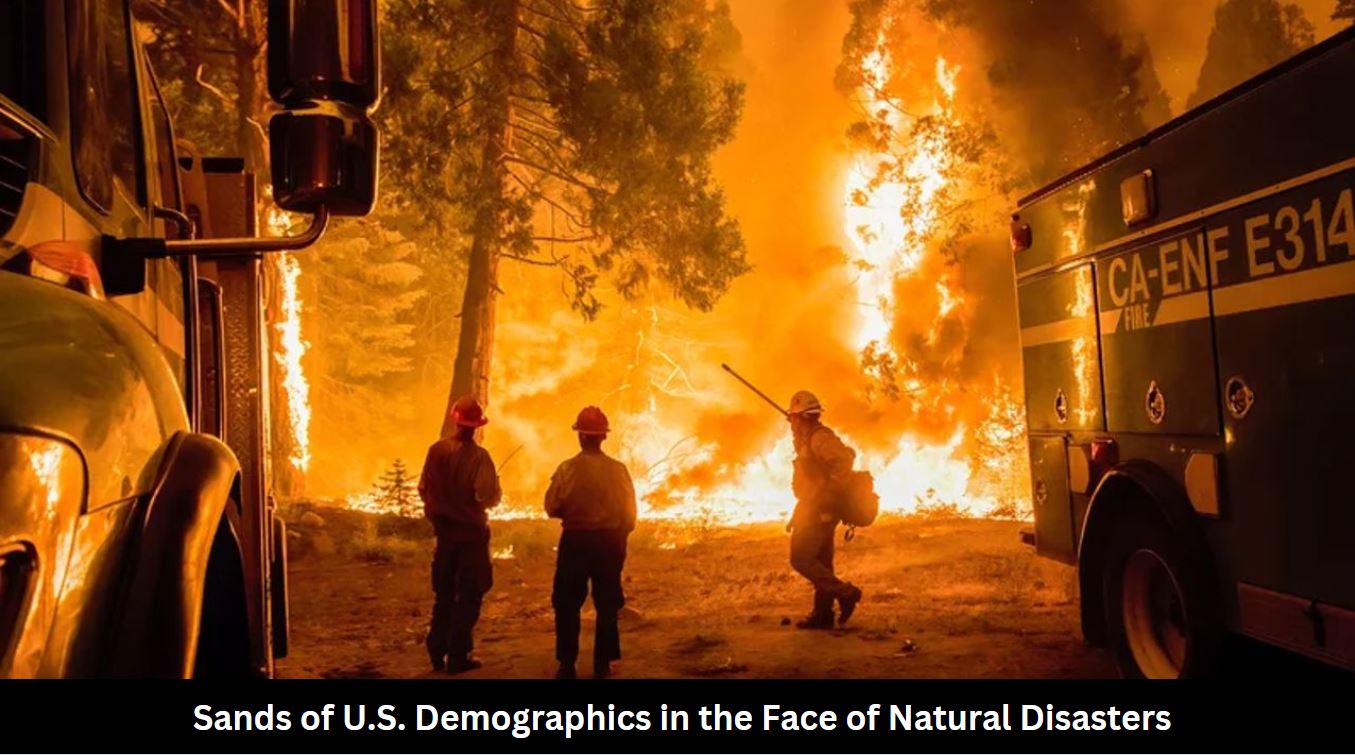 The United States, with its expansive landmass and diverse geography, boasts a wide range of population distribution across its states. From the bustling cities of New York and Los Angeles to the quieter landscapes of the Midwest, the demographic layout of the U.S. paints a picture of a vibrant and diverse nation. However, these demographics are not static. Recurring natural disasters threaten to reshape the very fabric of this population distribution, posing significant challenges to maintaining stable demographic growth.
Effects of Natural Disasters on U.S. Demographics
Displacement of residents: When disaster strikes, the first and foremost effect is the immediate displacement of residents. Evacuations become inevitable, and in the aftermath, not all choose or can afford to return, leading to a reduction in the local populace.
Economic impacts and job losses: A town or city hit by a calamity often sees its local economy crumble. Businesses suffer damages, leading to closures and subsequent job losses. This economic downturn can deter the return of evacuees and make the area less attractive for potential newcomers.
Infrastructure damages: The visual scars left behind by disasters – destroyed homes, broken roads, and downed utility lines – further contribute to the region's declining appeal. Without proper housing and essential services, residents are less likely to resettle.
Psychological trauma: Beyond the physical destruction, the emotional and psychological trauma experienced by survivors often goes unnoticed. The fear of reliving such traumatic events can act as a strong deterrent for many considering returning to their previous homes.
Strategies for Restoring Demographics
Rebuilding infrastructure: Restoration begins with rebuilding. By prioritizing the construction of durable, disaster-resilient structures, confidence can be instilled in the hearts of former and potential residents.
Economic incentives: By providing financial benefits, such as tax breaks and subsidies, both businesses and individuals can be lured back, kickstarting the local economy and, in turn, attracting more people.
Mental health initiatives: Addressing the psychological wounds is paramount. Offering counseling services and community support can help individuals cope, facilitating their return.
Community engagement and campaigns: Making residents feel involved and valued can reignite their sense of belonging. Campaigns that highlight the region's unique culture and history can draw attention and interest.
Role of health and wellness: At the foundation of a thriving community is its health. Products like Eriacta 100, which cater to specific health needs, underline the importance of wellness. Ensuring easy access to such products and general healthcare can make a region more appealing to its residents.
Tables
Table 1: Demographic Changes Post Natural Disasters
| Disaster Event | Pre-disaster Population | Post-disaster Population | % Decrease |
| --- | --- | --- | --- |
| Hurricane X | 1,000,000 | 800,000 | 20% |
| Earthquake Y | 500,000 | 420,000 | 16% |
| Flood Z | 200,000 | 150,000 | 25% |
Table 2: Projected Benefits of Restoration Strategies
| Strategy | Potential Population Increase | Expected Economic Growth |
| --- | --- | --- |
| Rebuilding Infrastructure | 15% | 10% |
| Economic Incentives | 10% | 15% |
| Mental Health Initiatives | 5% | 5% |
| Community Engagement | 7% | 8% |
Conclusion
In the face of the havoc wrought by natural disasters, rebuilding and restoring demographics is an arduous journey. It demands a well-rounded approach, from brick-and-mortar solutions to emotional support. The inclusion of wellness products like Eriacta 100 underscores the need for a holistic focus on health as a cornerstone of these efforts. Only by addressing each facet can we truly restore and fortify the demographic tapestry of the United States.